The toolkit from the early Traveller parts manual (AKD3411)
Like a lot of small bits and pieces, the jack and tool kit is missing from my Traveller. It would be nice to be able to replace it with a reasonable facsimile of the original kit. According to my early Traveller parts manual, the standard tool kit supplied with the vehicle is pretty basic. A jack and jack handle, a cranked wheel nut brace which also doubles as a tool to damage the hubcap, a spark plug tube spanner with its tommy bar and a levelling bracket that fitted on top of the jack when jacking the front of the car. A bag (for the smaller parts) was also supplied.
The smaller tools should be pretty easy to replace, the dodgy wheel brace was used on Mini sedans, and the tube spanner and tommy bar will be common to many BMC cars of the period. Replica bags are available from places like Newton Commercial and some other specialists. Which just leaves the jack as the most difficult item to source.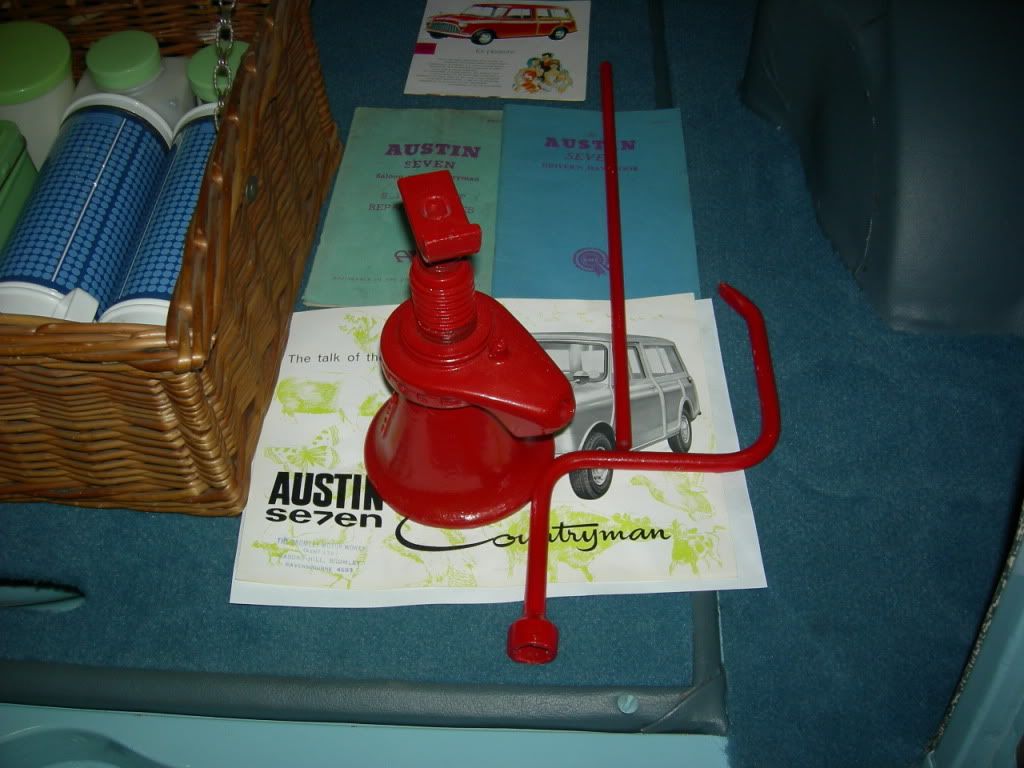 The jack of an Austin Seven Countryman. I think this is in Richard Mortlock's
car, which is a week older than mine. (photo: Bill Bell)
The tricky part is working out which jack is correct. The parts manual can't be relied on - often they would borrow illustrations they already had from other manuals - or just use a generic drawing of the object. In this case it does look like it should be a screw type jack, and with the help of the British Car Jack Database it looks like the
Shelley LJ225
which was supplied with some Austin Healeys. Bill Bell from the 1959 Mini Register supplied me with this picture. It shows the jack in the rear of an early Countryman (so an Austin, not a Morris like mine). Again with the help of the British Car Jack Database, this appears to be a different version of the
Shelley LJ225 - for Minis
so it looks like it is correct, and probably should be the one I'm looking for. These jacks were never supplied with Australian Minis, so I'll have to get one from the UK.
A metallifacture jack in an April 1961 Morris Mini Traveller
(Photo: Sussex Sports Cars)
Just to throw a spanner in the works, I came across this picture. It is 'borrowed' from the website of Sussex Sports Cars where this
1961 Morris Mini Traveller is for sale
. It shows a completely different style of jack made by Metallifacture in the UK.This is the type of jack that we refer to as a Mini van jack, in Australia, but I have seen them listed as Mini Estate jacks on ebay in the UK. The British car Jack database also lists
Metallifacture jacks
for Minis, and suggests that they were supplied from 1962-1968 - however it doesn't claim to be encyclopaedic. This Traveller is approximately three months younger than mine.
So the question is, which jack is correct? Either or both cars could have lost their original jack during the past 52 years. Maybe both jacks were supplied with 1961 Travellers - which would be nice, because I already have a Metallifacture jack that I managed to source a few years ago.
Just a final note. BMC offered tool kits as an extra accessory. These were much more comprehensive and contained a range of additional tools including spanners, pliers and screwdrivers. Luckily there is also a small number of unique individuals who spend their time tracking down the minutiae of BMC tool kits, so I hope to be able to source the bits to put together the extra items needed for one of them too.